Yes, yes, I know V comes after U in the alphabet. I've not lost my mind, but as explained in a previous post, I have no TV programmes from my youth starting with V to write about (and I'm also running out of time as April is nearly at a close), and so today I am skipping straight to W. Super cheaty I know. 🙂
And today we're back with a humdinger of a freaky piece of kids television for your delight. Brace yourselves and arm  yourselves with a magic wand, for today W is for…
Wizbit
"Ha, ha this-a-way
Ha, ha that-a way
Ha ha this-a-way
My oh my!"
Wizbit was probably one of the most bizarre children's TV shows ever to have been made in Britain. It was, essentially, a magic show hosted by the recently deceased Paul Daniels. It was set in the fictional magical world of Puzzleopolis where every thing  (magic related items such as wands and packs of playing cards), and every body seemed to be made from over-sized foam, even the character of Wizbit himself.
The mystery of  the character of Wizbit for me has always been: what the heck was he? Sure, he was a large yellow, foam cone – slightly reminiscent of a yellow version of the sorting hat in Harry Potter. Maybe he is meant to be a wizard's hat? I still don't know! (Ah…Wikipedia tells me he was an alien magician. Yeah..okay.)
Anyway,Wizbit  was joined by his sidekick Wooly the rabbit, who, if memory serves correctly, was a bit dense. Though I might be making that up! No, no I'm not. Check out this episode! Hahaha! – Oh and on this there's also an evil version of Wizbit – Wozbit! hahahaha!
The odd thing is, once again, my memories of what Wizbit was actually all about is quite vague. I know there was a bog  in it- a talking purple plastic bog at that. Now I used to think bog meant toilet (as it does in slang where I come from), but this taught me a bog was a totally different thing to what I'd believed until I was 11 years old when Wizbit hit our screens! Even then, I probably thought a bog was purple and plastic!  The show was only on for 2 years,  (27 episodes in total apparently) so a short run probably once again ensures my memories are fuzzy. Some might say that's no bad thing where Wizbit is concerned!
What I do remember of the show was this: Wizbit couldn't get into (or out of???) Puzzleopolis unless he got past the 'Gatekeeper' (a scary woman if I recall correctly) and I think he had to solve a puzzle to do this. There was also a 'baddy' with a twirly-whirly moustache I seem to remember and he had a cat called Jinx. I remember the cat's name because, of course – those of you old/young enough to remember, will recall that at school in the '80s if someone said something at exactly the same time as you, whoever said "jinxed" first was…er…jinxed! I think it meant you couldn't speak again forever and ever or something! I wonder if the yoof of today still jinx each other?  Anyway, they are my vague memories of Wizbit, other than the theme tune which (as most of these theme tunes seem to have done) has stuck with me 30 years later and is not vague at all.
Now it is pretty much universally acknowledged that Wizbit was a bit rubbish. In fact looking at the episode I've linked to here now – Wizbit was rubbish! :D. Not only that, but Wizbit had a really silly, voice – but knowing me I liked that at the time! It was very weird  and not a top quality kid's TV show at all, looking back. Nevertheless, for some reason we loved it! Looking at it now, I can't think what held the draw for me. Perhaps it was purely the oddball nature of it. (There's a modern kid's TV show called Bear Behaving Badly which I love now and that's a bit weird and wacky! The 'baddy' on that has a strange, mangy looking cat too, just like Professor Doom has on this with Jinx!). If one thing has come to light doing this challenge, it was that I liked shows which were a bit left of field most of the time! Perhaps it was the fact Wizbit was just so ridiculous. Maybe it was the car-crash TV quality of it. Perhaps I couldn't quite believe what I was seeing! Looking at it now, I'd assume that Paul Daniels and Barry Murray (former record producer for Mungo Jerry – fact fans) were tripping out on something when they came up with Wizbit! (I think most kid's TV shows are based on some form of hallucinogenic drug!) But Wizbit certainly had that odd, slightly creepy and scary Alice in Wonderland feel about it. Weird that I even liked it then, as I was never a fan of the Lewis Carroll classic.
Finally: Two randomly related to Wizbit memories. Brother number 2 (I think it was) had this Paul Daniel's magic set for his birthday or a Christmas one year and I can only assume was a direct consequence of watching Wizbit! Maybe it wasn't, but in my head it is!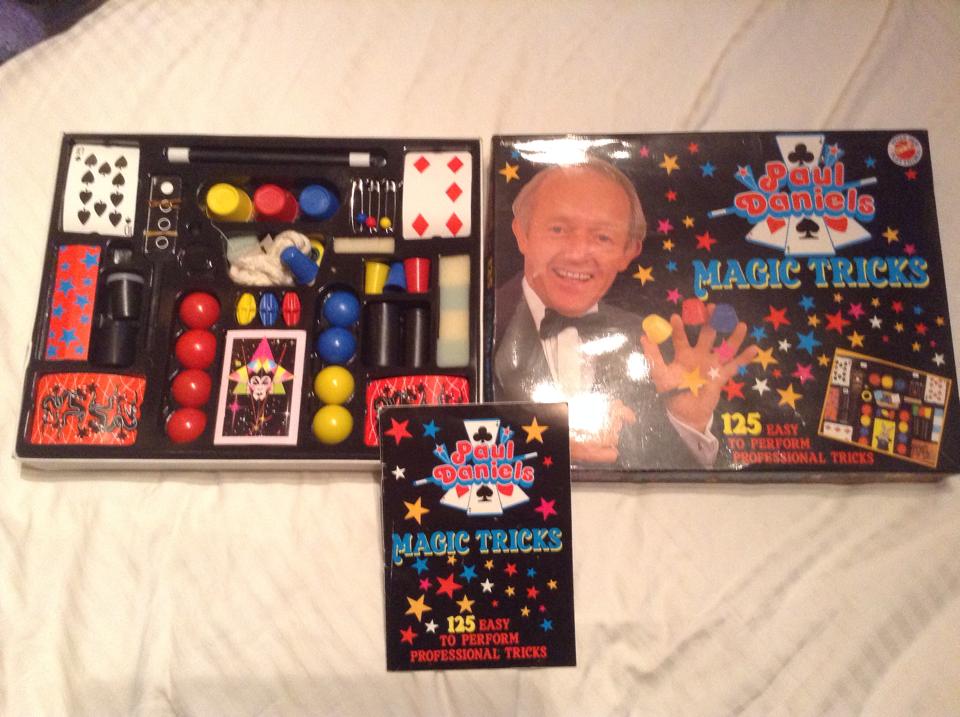 And the other random thought I had when doing this post was the other day when Brother Number 1 was trying to guess what programmes I'd be doing for U and W. To give him a clue to this one I said his best friend's name. This was because, for some loony reason, one of the nicknames for his friend was Wizbit. To this day, a little bit like why I liked this show, I do not know why!
And with that all that's left for me to do is vanish! So…as Wizbit himself would say…
Ostagazuzulum!
*Vanishes in a puff of smoke!