Well after a busy and very lovely weekend of wedding celebrations and birthday partying. it's time to tackle T. I was going to do 2 programmes for T, but unfortunately I have some boring admin stuff for my actual job to do this evening too, so I guess I should get on with that. Today's characters from today's TV show from my childhood never had such dreary problems to contend with. Oh no, for today T is for…
Thunder, Thunder, Thunder…
ThunderCats!
Ho!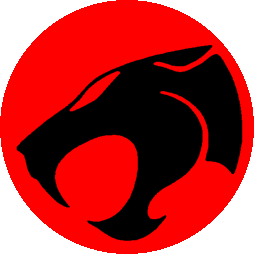 ThunderCats (the animated series) ran from 1985 up to 1989, so I was getting on a bit in terms of my childhood when it was on as I was between the ages of 10-14. (I'm discovering I was quite a late developer in terms of my TV viewing as a child, and I wonder if this was to do with being the oldest of 5! i.e: TV shows I might not have otherwise bothered with, came under my radar.) I'm pretty certain this one would have been down to Brother number 1 and Brother number 2. One of them had a Mumm- Ra figure (clearly not just me who was obsessed with the villains of 80s cartoons then!)
Anyway, ThunderCats told the story of the Thundarians, who guarded the precious Eye of Thundera (as they lived on, wait for it…Thundera), which was housed in the hilt of Lion-O's sword mystically named The Sword of Omens. They were always under attack from the mutants led by Mumm-Ra, a mummified sorcerer who would be given a new life if he were ever to possess the Eye of Thundera. Mumm-Ra lived in a sarcophagus where he was decaying, but occasionally came out, breaking  the bonds of his bandages and becoming a more powerful version of himself, though he always needed to return to his coffin to replenish his energy afterwards, which happened especially upon seeing his reflection. So basically  Mumm-Ra was a kind of a mummy/vampire hybrid. -A green, red-eyed mummy vampire.
You will know by now how this goes and you won't be surprised to hear that Mumm-Ra was definitely my favourite character on ThunderCats – the Third Earth equivalent to Eternia's Skeletor. He wasn't as funny or ridiculous as Skeletor, but there was something quite fascinating about his character which used to hold my attention. However, if I had to pick a favourite actual ThunderCat, rather than a mutant, then it would  be Panthro. I think he was the toughest, least cheesy and least irritating!
Of course, all the ThunderCats were alien/humanoid forms of various wildcats. So the leader was Lion-O (who was, oddly enough, a lion). He was kind of like the He-Man of the outfit. He had a sword, he had muscles, wore very little clothing and was very cheesy. Then there was Cheetara  – er – a Cheetah. I guess she'd have been your equivalent to Teela from He-Man character. Tigra was, yes, you've guessed it, a tiger – Lion-O's Man -at-Arms, if you will, and finally, Panthro was a panther. I always thought he was a bit of a BA Baracus type character because, from memory, he always seemed to come in when they needed a bit of braun. I also recall he had a vehicle of some kind which he was in charge of and used to smash through walls and stuff, so perhaps that's why he reminded me of him.
My memories of ThunderCats is that it seemed a bit slicker in production than He-man, perhaps on account of it being slightly later when it started. The theme tune and opening credits were certainly slicker, sharper and faster paced than those of He-Man (and as ever with all my favourite TV programmes, memorable to the point of recalling all the lyrics). But also, Lion-O's sword actually GREW with each shout of "Thunder, Thunder, Thunder, ThunderCats Ho!" He-Man's sword never grew, though I guess if we're point scoring The Power Sword did change a pathetic, cringing cat into the wild and mighty Battlecat. Speaking of  wild cats, the ThunderCats, on account of them being wild jungle type cat hybrids I guess, also meant the characters were more athletic than those from Eternia. The action scenes were  based more on their agility rather than use of weapons, (though they did have weapons -Tigra had some whip thing I recall) and so, as a result, were faster paced. Actually, I'm sure Cheetara had something resembling a pole vaulting pole too, but it's been a while since I've seen it so I can't remember. (Just for info – the way I do these posts is to write from memory and then go and watch on You Tube to see if what I remember is right. If it's not I leave in what I've written though, as it's fun to see what I remember from 20-30 years ago!)
When I was in Year 6 of Primary school (in my school called Junior 9 as this was 1986/1987) I did a whole project on wild cats and I'm now wondering if this was a direct consequence of liking ThunderCats. We were allowed to choose our own topic, (none of this enforced rubbish kids get nowadays), so maybe ThunderCats is the reason I chose that. I know I used to draw the ThunderCats all the time when I was in Junior 9, as kids in my class found out I could and would put requests in. I think I even sold a few sketches for 10p a time! Hahaha!
Of course, no 1980s animated series would be without it's irritating little squirt characters. However, ThunderCats went two better than He-man (Orko) and Battle of the Planets (7 Zark 7 whom I actually quite liked though I know most found annoying) as in ThunderCats we had not only Snarf ("Snarf, Snarf" uuuuuuurghhhhh) – a little red and yellow ball of fluff who was just more pointless than a blunt pencil and I assume the ThunderCats' pet, but we also had to endure WilyKit and WilyKat. Or as I liked to call them WhinyKit and WhinyKat. Can't remember why, but I'm guessing they must have been a bit whiney!
I believe there has been a re-make done of ThunderCats, a bit like they've done with ThunderBirds, and although I can watch the ThunderBirds remake quite happily because the original was not of my time, I cannot bring myself to watch a re-hash of ThunderCats for fear of all I remember being soiled and sullied.
My other choice for the letter T was going to be T-Bag, but alas, there is no time.
However, here's a picture to remember it by!